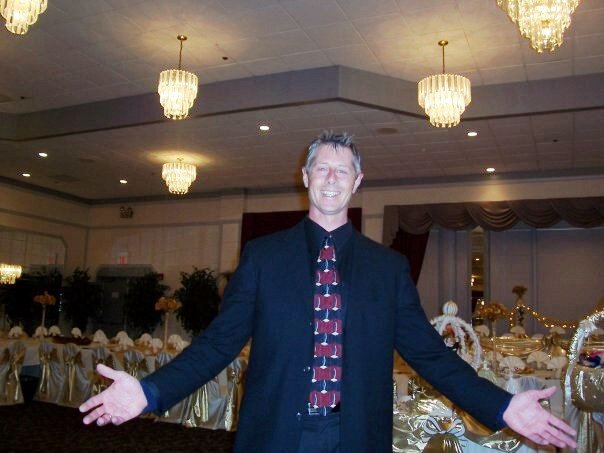 Hello. I am Drake Dietrick.
I am a graduate of Indiana University.

I started Drake Dietrick Video in 2007.

Remarkable service & professionalism are my absolute priorities.
For 5 years, I have I offered videography service, DVD transfers, video tributes, college recruiting highlight reels, & digital conversions.Full Service Video Production Company: Digital Content, Online Media, Film in High Definition covering all pre and post production aspects.

I love being behind my cameras filming for hours and hours. I have been experimenting for five years straight with exposure, angles, lenses, hoods, white balance settings, lighting, dynamic object tracking, sound, motion graphics & transitional effects. I spend tons of time producing complete 10-30 completely custom DVD sets for the events that I film.

Worked With Marilynn Preston - Emmy Award Winning Executive Producer for PBS & WGN. I performed linear & non-linear editing for a TV show called Energy Express.

Filmed David Gonzalez & The Poetic License Band
Full Concert in 2012.

Filmed 6 corporate marketing studies for
Valvoline Corporate Headquarters in 2012 & Home Depot Inc., Corporate in 2011.

Directed 2 commercial spots in 2011:
Beck's beer and Nationwide Insurance.

Taught a media arts class for the Salvation Army Red
Shield Center (Chicago, IL) in 2011.

Filmed 2 web commercial spots for
Matt's Ink & Toner, Inc. in Northbrook, IL 2010.

I have filmed Birthdays, Sports, Corporate Events, Bar/Bat Mitzvahs, Going Away Parties, & Live Bands.
In fact, I would estimate that approximately 85% of my business
is filming the wedding ceremony & wedding reception.

The bride & groom never stress out about me.

I get there early, set up & start filming. Most of the evening, I blend into the background meaning I am non intrusive.

I can most confidently say that I will anticipate almost every move & stay ONE STEP AHEAD
in just about
ANY wedding situation.

I offer EXACTLY what customers look for in today's fast paced world:

QUALITY, LOW PRICE
& FAST SERVICE.

Clients return because they expect a blinding fast, high tech,
& high quality service with a standard clean look.

I DELIVER RESULTS,

NOT EXCUSES.
They went with me again because of my work ethic,
reliability & they sincerely understood & appreciated
my efforts the first time around.


People that know me, would all agree that I always pour my heart & soul into my work.
I always go above & beyond the call of duty because I want everything attached to my name to look neat, clean, error free, well produced, well planned,
well executed & well thought out.
I have always said, I DO NOT WANT want my customers to be merely 'satisfied'.
I WANT THEM TO RANT & RAVE WHEN ASKED ABOUT THEIR VIDEOGRAPHY SERVICE.

because I AIM TO OVERWHELM MY CLIENTS.
CLIENTS APPRECIATE
A FANTASTIC EFFORT
FOR A VERY REASONABLE PRICE.

I seriously attempt to
strive for total perfection at all times.

I am very dedicated, hard working,
creative, innovative & determined.
$80.00 PER HOUR.
SMALL DEPOSIT. NO HIDDEN FEES.

YOU RESERVE ALL RIGHTS TO YOUR FOOTAGE.
COMPLETE DVD SETS MAILED 5-7 DAYS AFTER THE EVENT.

* High Definition

(1920 x 1080 Resolution)
Indoor, outdoor, & low lighting conditions.
*Always crystal clear picture and sound.

* 5.1-Channel Surround Sound*

ensures your audio quality

is as good as your picture quality.